RaceMaster from Sport Systems is the UK's best-selling Race Management software for road races, cross-country, fell and multi-terrain events.
Our customers appreciate its ease-of-use, robustness, speed of operation and the quality of the race reports.
Key features:
Manages large numbers of competitors and events
Multiple events within a meeting such as 5k and 10k
User defined age categories
Team competitions
User defined prize list
Option for races within races (county championships etc.)
Competitors' details including EA registration numbers stored in database for re-use
Results easily posted to the internet
Multiple computers can connect to the data files simultaneously
Relay results with optional relay module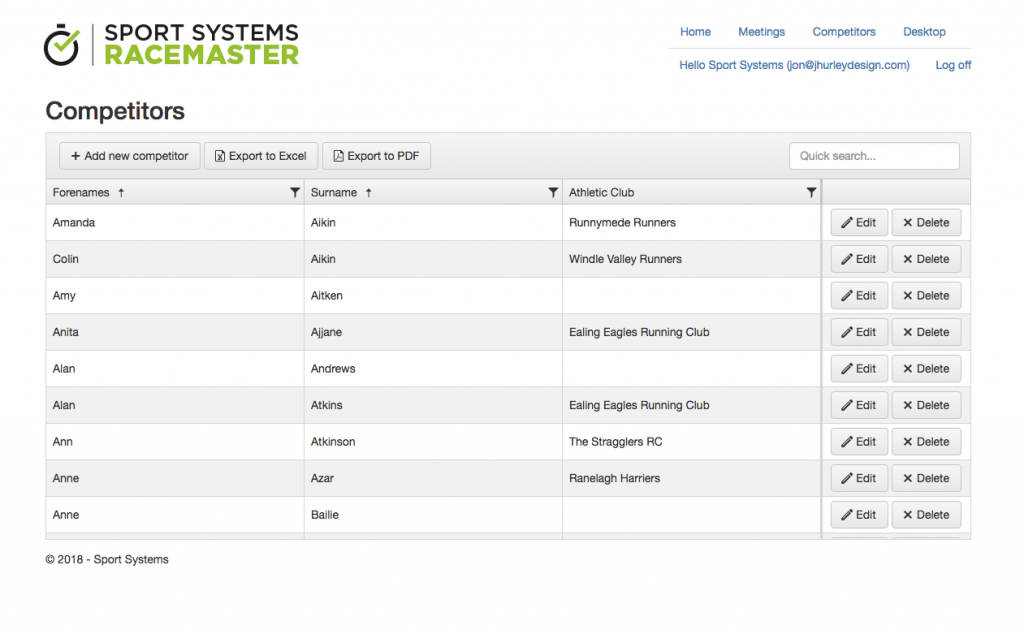 Screen shot of the competitors page (click to expand)
The software has undergone a major upgrade and now offers the following additional benefits.
| Features | Benefits |
| --- | --- |
| Evaluation copy | Try the software in your own time before you buy |
| Directly import finish times from stopwatch | Saves time spent keying in every finish time |
| Directly import finishing positions from barcode scanner | Removes the need to write down and then type in all the runner numbers, saving time and increasing accuracy. Also reduces your initial financial commitment by using popular scanners used by the running community |
| Imports data direct from a Sport Systems online store | Saves manual data entry from paper forms and thus improving data accuracy |
| Auto race numbering | You can number your entrants alphabetically to ease race pack distribution on the day |
| First race free | Only pay the licence for the software after you are happy with your first race |
| Regular updates to software | Benefit from new features as they are released |
| All your races stored in one place | Eliminates the need to swap files as you did with RaceMaster98 |
To take advantage of our free evaluation offer click the link below and tell us about your first race